Our visual identity
The visual identity of Brighton Grammar is an important part of our brand, reflecting both a nod to our traditional past while simultaneously embracing the energy of today and potential of tomorrow.
The single most important thing is the consistent representation of our school to the many audiences we interact with every day.
The Marcomms Office is the gatekeeper of Brighton Grammar's visual identity.  This includes elements such as fonts, colours, symbols, photographs and illustrations, and how these are applied online, in print, on apparel, signage and so on.
Contact the Marcomms team for help with your design needs.
The logo
Our refreshed crest, developed in 2016 is extracted from the 1960 Heraldic Coat of Arms. It speaks to our history but is presented in a cleaner version more reflective of Brighton Grammar today.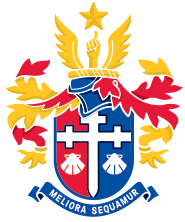 What do the elements of the logo mean?
The fist and pointed finger is an aspirational symbol that aligns with the BGS notion of 'stretch goals' and striving for one's best.
As far back as the Egyptian hieroglyphics the star signified 'rising upwards' and formed part of such words as to 'bring up' , 'to educate' and 'the teacher'.
Wings symbolise spirituality, imagination, thought. According to Plato, wings are a symbol of intelligence.
The Cross and scallops reflect that Brighton Grammar sits on lands entrusted to the Church by founders of Brighton Henry Dendy and JB Were (scallops from Dendy and the cross from Were) and that BGS is a Christian school. The cross and scallops are Christian symbols.
The wings, finger and star have been integral symbols of Brighton Grammar since the very earliest years of the school.
What better symbols could our Founder Dr Henry Crowther have drawn on to give a visual expression of his motto Meliora Sequamur than wings, a pointing hand and a star. Each of these work on their own, or when working together to represent 'pursuing better things'.
Tagline
Brighton Grammar has retired the use of the tagline we teach boys.
Rather than having one tagline, we have several current campaign or positioning lines in use.  Examples include:
Transforming the way to teach boys
Enabling/inspiring/supporting boys to be the best version of themselves
Understanding Boys.
The BGS Values
Always do the right thing, even when no one is watching INTEGRITY
Do what you say you'll do ACCOUNTABILITY
Be respectful of everyone and everything around you RESPECT
Approach everything with energy and enthusiasm PASSION
Our beliefs
Our beliefs shape how we think and behave as a school.
We believe:
In adopting best available research to inform the way we do things
To develop the student we must also develop the teacher
Boys must always know what is expected of them
The principle of high performance teams apply to academic learning
Boys thrive in a positive male culture that celebrates the unique joy of boyhood
In the power of the three-corner partnership: the school, student and parents working together.
The BGS culture
Core to BGS is a powerful sense of belonging experienced and valued  by students, staff, parents and Old Boys. Once you join BGS, you are always a member of BGS.
At BGS we strive to create a positive male culture that celebrates the joy of being a boy.